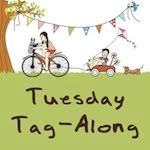 Playing along today with another blog hop. This one is from
TweePoppets
......go check it out!
Add Trying to Reason
to read all you want to know about
A city girl living in the county just looking for the beach.
Life, love, school, kids and all the humorous in betweens!
I have 2 blogs now!
Which I said I would never do.
but I am challenging myself
a running challenge for 365 days!
and blogging all about it.
Runningfor365
The official launch day is May 1st
if you are a runner or ever wanted to start running
Add me!
I am going to need all the encouragement I can get!