I am following along today with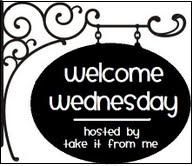 Welcome. Today's post should give you a pretty good idea of what its like around here.
I went to go butter my toast this morning and realized that we had used the butter to grease K's leg in the
bike ordeal
............ok, I can just use jelly BUT I need to go grocery shopping.
Thats not why I got laughed at though. This is why:
Last weekend I went to the store to buy a slip n slide. It was hot, the kids were bored, and we had a lazy weekend. So off I went to the store. I came home with some water guns and slide. The kids had fun and even though the cheap ass thing tore up it completely entertained my kids for HOURS. I am fine with spending 9$ to entertain 3 kids for a day. Well worth it I say and I got some great pics.
Great Right?
So this past weekend I figured out why J was kinda snickering under his breath and saying "thats not how we slide in the south"..........I usually ignore comments like this because somehow or other it always feels like he is making fun of me. I hear this almost daily. 'This is LA baby!" That would be Lower Alabama...........oh give me a break! Well now I know why he was amused at my "little slide"
This past weekend we went to a birthday party at J's brother's house. It was a slip n slide party. Cool I thought. Well here is the slip n slide.
Now what kid in their right mind would want to slide on my slip n slide after they had a experienced this? I see I have a lot to learn. People this involves a serious size tarp, a large hill, a sprinkler, and dish washing soap. I swear I am going to take my turn on here. This summer I declare a parents slip n slide day.
I almost went down. In all my awwwwwing of this AWESOME slide, I got too close, I was helping them straighten the slide when.....BAM ......R about took me out!
Thanks for the help T.......although she was in heels and laughing so hard .......but she still saved me from completely embarrassing myself in front of J's entire family. Good thing he got the shot though. I think he was hoping for me flying down the slide.
I digress. J wins on this. His slide is so much better than mine.