out my front door
across the yard
to the shed
peek inside
Do you see what I see?
My children reading
This is one amazing sight to see on a Summer morning and it has been a sight I have seen often this week. J was the first to discover them. It all began after we cleaned out the shed. We had found a big box of books and they were stoked to dive in. R is technically my biggest reader, K is just beginning but I think she is really getting the hang of it, and H is diving in simply because he is seeing the others do so. He has found some great books and been reading so fast just so he can tell me about them. I am so proud.
Today we are having a kickoff party for our Summer Reading Program. We have about 7 kids reading along and they are all working for points. We have weekly, monthly, and summer goals. Each week everyone who meets their goal gets to do something special such as a smore's party or picnic at the creek with water balloons. The big goal is at the end of the summer to take everyone in the big camper somewhere and spend a few days camping out. We also are looking into a water park.
This is what I have been doing today to prepare for the kickoff party......
Can't you just smell them? The whole house was sleeping at this point.
I took this bowl to K's room and woke her up.........she sat up immediately with a big smile and licked the spoon! What a way to wake up. Personally the batter is my favorite part. Everytime I am making a cake or cupcakes I remember a story my dad told me. My great uncle used to pay my great aunt 10cents for the batter every time she made a cake. I love that story.
Well without further adieu here is how the cupcakes turned out.
I am not a perfectionist but I believe they turned out pretty cute!
Well welcome Friends and New Followers.
Today I am following along with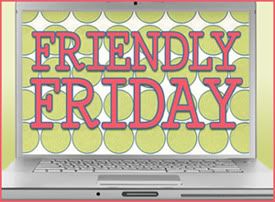 Wow there are a ton of Friday Follows!!!